Mounting a Bat House on a Post vs. a Building
Mounting a Bat House on a Post vs. a Building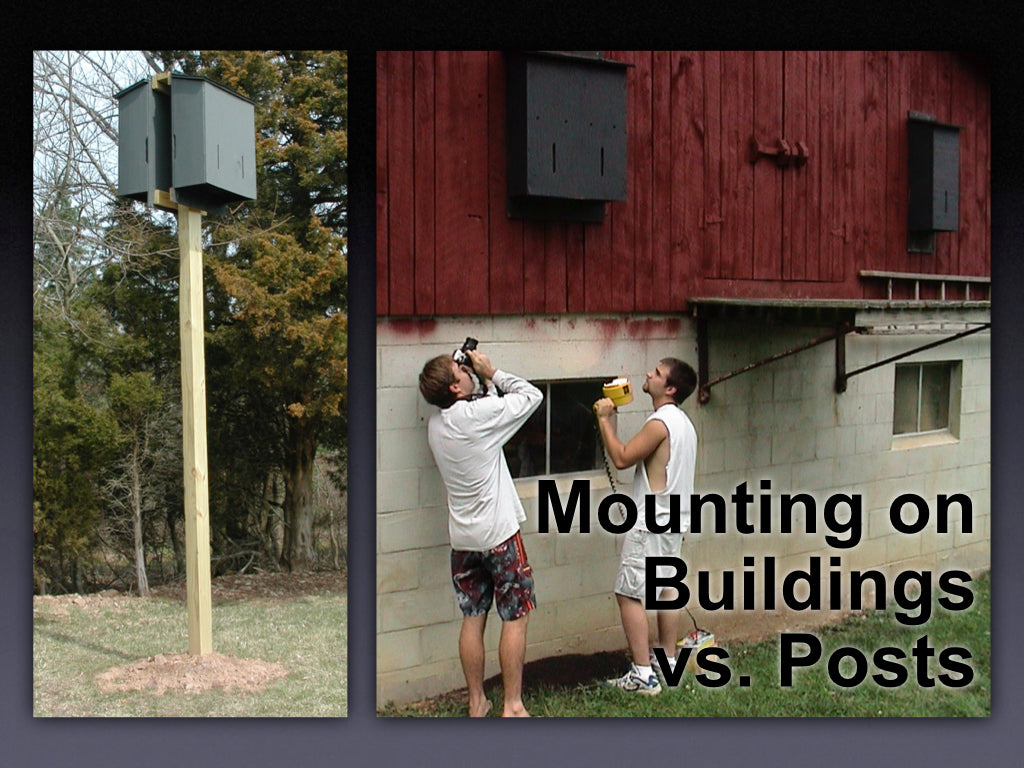 Pros and Cons of Mounting a Bat House on a Building vs. a Pole
Mounting your new bat house directly on a structure where bats are being evicted will almost guarantee a successful bat house occupation, provided the box receives enough direct sunlight. One pitfall of structure mounting is installing the bat house too high where it becomes shaded from overhanging eves. However, bat houses will take advantage of the radiant heat of the building well after dark. Small bat houses stay warmer longer in this situation and are usually more successful attached to buildings vs. poles.
Bats may only use the bat house part of the year, but a large colony will produce an appreciable amount of guano which will over fertilize the ground directly beneath. Be careful not to mount the bat house directly over windows, doors, and walkways. In addition, bat excrement may stain certain paints on the structure. Minimize this by using spacers between the bat house and the structure. While fascinating to watch, the daily dawn return is responsible for droppings that inevitably are splattered on the siding around the bat house.
Similarly, avoid placing bat houses near where vehicles are parked, as the droppings may impact the finish.
Keep in mind that it is not necessary to mount a bat house on a structure for bats to discover it. A successful bat house can be moved several hundred feet to a similar sunny location without bats abandoning it, though some big brown bats and other species may not agree with moving plans and may temporarily abandon the bat house. Pole mounting a bat house one summer before planning an exclusion project is ideal. This eliminates the need to move the box off a structure in the long run, and bats have plenty of time to investigate the bat house before being excluded elsewhere.The bat house may be moved several hundred feet after two summers of bat occupation. Moving the bat house during the first year may cause bats to abandon the box. Move box only in the winter, when bats are not present. Pole mounting a bat house one summer before bats are excluded from a nearby structure is recommended as the best permanent solution and is highly successful.
Installing a post for your bat house gives you much more flexibility; you can choose a location that receives full sun that is both good for you and therefore good for bats, away from people traffic. Some buildings simply don't have a suitable location that is sunny, and accessible. Yes, you can place a bat house 30' high on the chimney, and bats may use it, but it will be difficult to maintain. Wooden-exterior bat houses should probably be resealed and repainted every ~3 years to longevity. 
Need help installing a bat house? We can help you microsite your bat house so it is good for both you and bats, and handle all the install details.