Backyard Bat Houses - Nursery Bat Houses - Rocket Boxes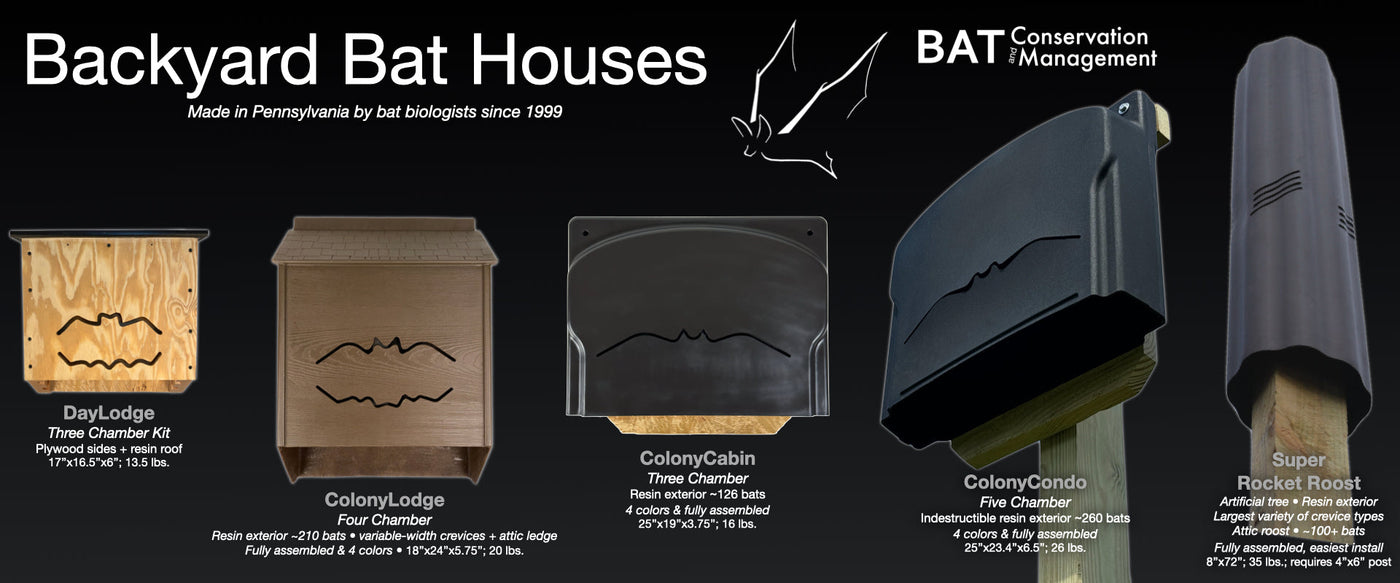 Just a few bats can eat thousands of insects in a single night, making them the perfect substitute for nasty pesticides. By eating everything from crop-pest beetles to annoying mosquitoes, bats help keep your garden and your family safe. Simply just having bats nearby actually can drive away some insects!
"Artificial roosts" provide a perfect home where bats have lost natural habitat, or where they have moved into buildings.
When we talk about artificial bat roosts, most people think of bat houses. Believe it or not, artificial roosts for bat mitigation or management can be categorized into no less than seven groups! Bats may be found in Artificial Bark, Artificial Trees, Bridges, Culverts, Old Buildings, and even purposely built Artificial Caves!

Bat Conservation and Management has designed, constructed, and updated bat houses across the US since 1999. We have three categories of homeowner-sized backyard bat houses for all budgets:


ColonyLodge

Our ColonyLodge Universal 4 Chamber Bat House features a rotomolded exterior that requires no assembly or painting, and should outlast any all-wood bat house. ColonyLodges have different crevice widths and four colors suitable for species found all over North America. This is the largest capacity single bat house we presently offer, suitable for residential backyards. Our Super Duplex is over 2x larger. It consists of two of our best selling ColonyLodges in a back-to-back configuration with additional center roost space, all on two wood posts for longevity and redundancy. The Super Duplex is modular and ships UPS with posts obtained locally, and we offer installation service.
 
Rocket Box
The Super Rocket Roost and Rocket Roost simulates a dead tree, allowing bats to enter into crevices found under an industrial-quality plastic shell. Two kinds of crevices are found the extra long height of the roost, allowing bats to find just what they are looking for. It's a different look, easy to install, and should be successful in all but the hottest regions.
Day Series
DayRoost single chamber and DayLodge three chamber bat houses are totally functional, totally solid choices. The exterior is plywood, and the mounting is thru the roost eliminating any stress on the roof.  The synthetic roof made from a slab of recycled plastic lumber lasting decades. The DayRoost is more suited to hang on buildings, while the larger mass of the DayLodge allows it to be successful on buildings and posts. Kits are available and very popular for DIYers and group activities!
Backyard Bat Houses - Nursery Bat Houses - Rocket Boxes