ColonyLodge Super Duty Exterior Bat House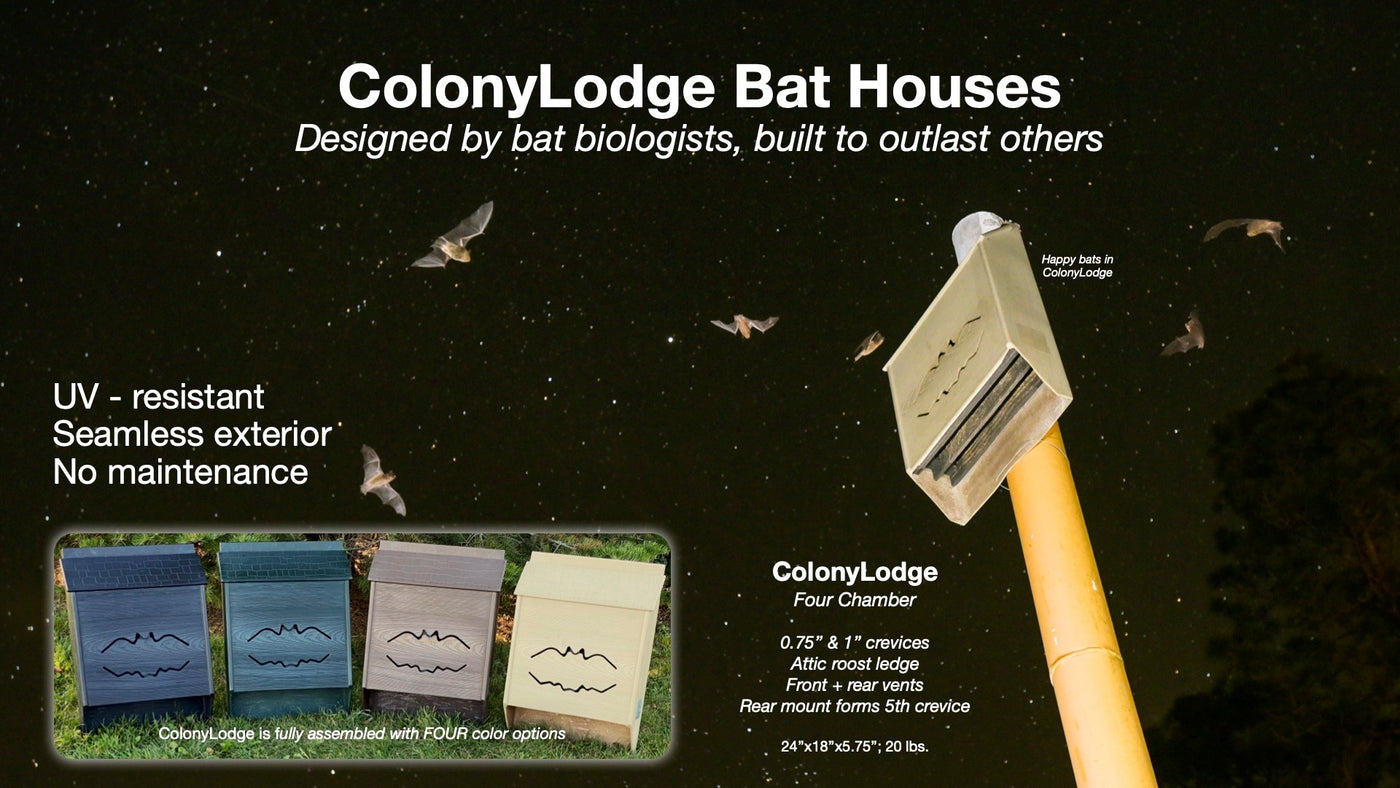 Just a few bats can eat thousands of insects in a single night, making them the perfect substitute for nasty pesticides. By eating everything from crop-pest beetles to annoying mosquitoes, bats help keep your garden and your family safe. Simply just having bats nearby actually can drive away some insects!
"Artificial roosts" provide a perfect home where bats have lost natural habitat, or where they have moved into buildings.
The ColonyLodge is BCM's multi-chamber "nursery style" bat house based on initial research in Pennsylvania in the 1980's when trying to develop a structure that bats would occupy when they are evicted from buildings. We have incorporated a number of design tweaks over the years and these bat houses have enjoyed remarkable success.

Super Duty Exterior
After research showed the kind of structure bats would occupy, the biggest problem was making the bat house survive in the elements. Our ColonyLodge Bat House features a rotomolded exterior that requires no assembly or painting, and should outlast any all-wood bat house. ColonyLodges have different crevice widths and four colors suitable for species found all over North America. This is the largest capacity single bat house we presently offer, suitable for residential backyards.
The ColonyLodge Duplex is simply two of these bat houses back-to-back. This configuration offers more microclimate options and allows bats to spread out as the first bat house becomes occupied. 
Our Super Duplex is larger and even more long term with twin mounting posts. It consists of two of our best selling ColonyLodges in a back-to-back configuration with additional center roost space, all on two wood posts for longevity and redundancy.
Even larger bat house configurations are the 2x2 Modular Condo and 3x3 Modular Condo. These provide many isolated roost compartments for microclimate options and space to spread out & cool off. Our clever modular concept allows large bat structures to be build faster and less expensive than ever before using many ColonyLodges to form structures that can safely house nearly 2,000 bats. We offer installation service for all of our bat houses.
ColonyLodge Super Duty Exterior Bat House